If your pulp or nerve space has become ill, endodontic treatment can be done to relieve you of pain and infection and maintain the natural tooth in the mouth. Root canal treatment can often be performed in one visit and involves the following steps:
The endodontist examines and 3-dimensionally x-rays the tooth to determine if root canal treatment is the best course of action. If it is local anesthetic is then administered to get you completely numb and comfortable. After the tooth is numb, the endodontist places a small protective sheet called a "rubber square" over the area to isolate the tooth and keep it clean and free of saliva during the procedure.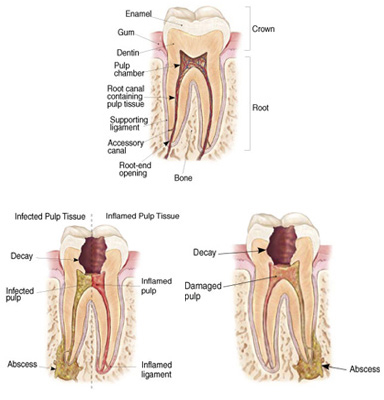 The endodontist makes a small opening in the crown of the tooth to access into the root. Very small instruments and irrigation fluids are used to clean the pulp from the pulp chamber and root canals and to shape the space for filling. These fluids are delivered utilizing a powerful irrigation system called GentleWave. The minimally-invasive GentleWave procedure uses acoustic energy to activate cleaning solutions deep into the microscopic anatomy of the tooth, effectively removing tissue and debris that cause infection.
After the space is cleaned and shaped, the endodontist fills the root canals with a biocompatible material, usually a rubber-like material called "gutta-percha." The gutta-percha is placed with an adhesive cement to ensure complete sealing of the root canals. At that point, either a temporary or permanent filling is placed to close the opening. If a temporary filling is placed, it will be removed by your dentist before the tooth is permanently restored.
After the final visit with your endodontist, you must return to your dentist to have a crown or other restoration placed on the tooth to protect it and restore it to full function.
If the tooth lacks sufficient structure to hold the restoration in place, your dentist or endodontist may recommend that a post be placed inside the tooth. Ask your dentist or endodontist for more details about the specific restoration planned for your tooth.
Location & Contact
665 Camino de los Mares, Suite 204
San Clemente, CA 92673
Map & Directions
Phone: (949) 661-9680
Fax: (949) 661-4872
Email: Contact Us

Office Hours
Mon – Fri: 8am – 5pm